The Doushce Garage Studio tambah Audiocenter Sound System ke inventori
audiocenter
,
sa315
,
ma15
,
l65
,
l65a
,
l65+l65a
,
sa3118
,
active loudspeaker
,
active subwoofer
,
column speaker system
,
Ditulis oleh Eric Chee
Direkomendasi oleh TS Wong.
The Doushce Garage Studio merupakan satu studio baharu yang ditubuhkan ketika Perintah Pergerakan Kawalan (PKP) di 2020. Studio di Kampung Temiang, Muar ini bermula di rumah dan melebarkan sayap apabila Malaysia mula membenarkan aktiviti event luaran.
Pada 2020, The Doushce Garage Studio ke pasaran untuk mendapatkan 2 unit loudspeaker untuk kegunaan studio. Banyak model dan jenama telah dikenal pasti sebagai sasaran. Namun pemilik Doushce Garage Studio, Daus diperkenalkan dengan jenama Audiocenter menerusi seorang sound engineer dari Muar. Selepas membuat testing sistem Audiocenter di showroom AV Electronics Marketing, Doushce Garage Studio membeli 2 units SA315 sebagai audio sistem utama.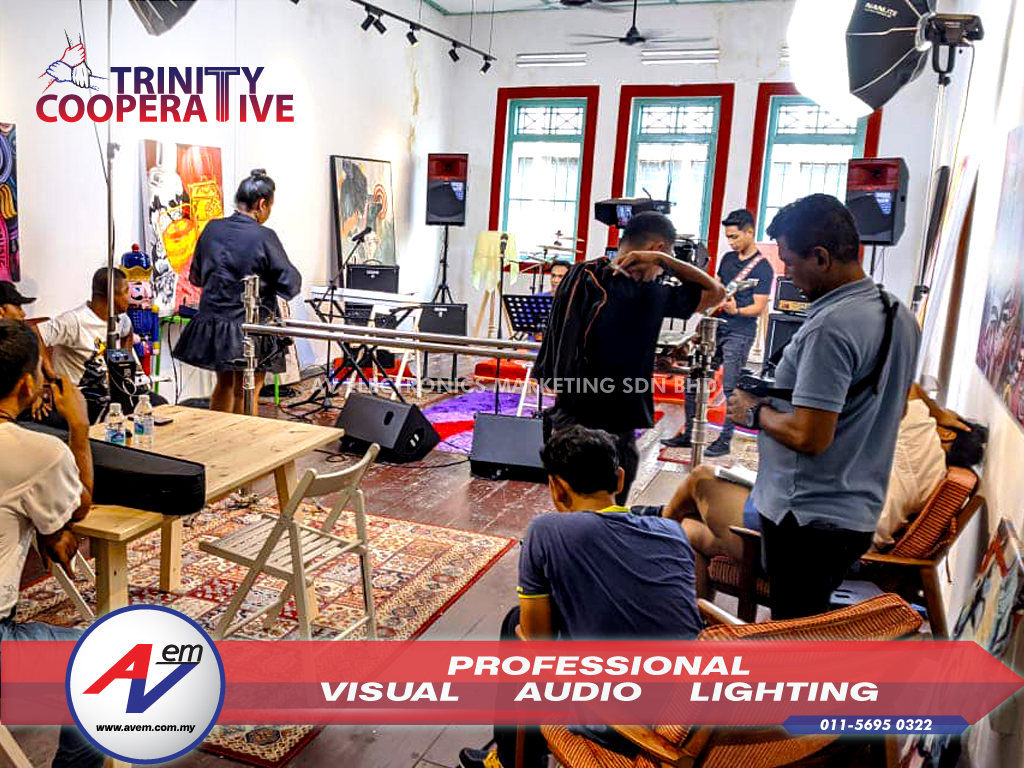 Pada tahun 2022, bisnes Doushce Garage Studio bertambah baik dan bersedia untuk menambah sistem audio ke inventori mereka. Ketika pada lawatan pada 2020, Doushce Garage Studio telah membuat testing sistem L65+L65S dan ia merupakan cinta pandangan pertama. Daus datang kembali ke AVEM untuk berbincang lanjut tentang sistem column Audiocenter ini. Dengan konsert yang akan datang dan limitasi stok, akhirnya Doushce Garage Studio settle dengan pembelian L65 column speaker, L65A amplifier dan SA3118 subwoofer. Dengan set baharu ini dan dengan konfiden, mereka telah menjayakan satu konsert mini di Dewan A9 Universiti Tun Hussein Onn Malaysia. Antara band yang membuat persembahan adalah band Samudera. Baca lanjut tentang event ini di SINI.
Pada awal tahun 2023, The Doushce Garage Studio menambah lagi 2 units model baru Audiocenter iaitu MA15. Ketika sesi borak dan santai bersama Daus semasa pembelian MA15, beliau berkata dia amat menyukai tone bunyi Audiocenter. Ketika event konsert mini di Dewan A9, mula-mula beliau tidak konfiden sistem column dapart cover seluruh dewan. Beliau setup sepasang Audiocenter SA315 sebagai standby. Tetapi, di akhir event, SA315 langsung tidak dipakai dan pemasangannya itu hanya satu hiasan. Daus juga sangat menyukai warna merah pada horn speaker SA3. Ia membantu beliau mendapatkan keunikan daripada pesaing. Beliau juga mengunakan strategi pemilik "speaker warna merah" sebagai tema marketing. Dengan marketing yang unik ini dan kualiti audio yang menakjubkan, Daus konfiden bahawa long term strategy ini akan membawa bisnes The Doushce Garage Studio ke peringkat yang lebih tinggi.